Bundle that includes 3 popular plug-ins and 3 bonus sample packs, W.A.Production "Back To School Bundle" is 93% OFF.
This bundle includes:
InstaScale
Orchid
Punchy Worm
What About: Slap & Bass House Euphoria
What About: Techno Stamina
What About: EDM Vishnu
InstaScale
Rolling out another innovative tool to assist you in your song creation adventures.
Play your instruments using the brilliant idea of relative notes, rather than the old static approach. Explore the world of scales and expand your creativity in a way that you never have before.
What is it?
Instascale is a newly invented, scale oriented instrument with only 16 keys to play with.
But wait, is that enough? Turns out it's more than enough. Unlike the standard keyboard instruments where each key can only play a single note, Instascale has a set of smart keys, each one capable of playing different notes.
The new note will be based on the given scale, last note's position and the action of the key assigned to it.
Instascale is available as a MIDI processor plugin that can be used in any DAW that supports VST instrument plugins (with MIDI routing) or AU MIDI effect plugins, given you the freedom to play any instrument you choose without any limitations regarding the sound and hardware.
Orchid
This is chorus on steroids.
Taking inspiration from the thick and wet studio processing of the 1980's, Orchid is your quick-fix way to solve the problem of thin and weedy audio.
Fatten up synths, basses, guitars, vocals or drums and add depth, richness and harmonic structure.
Whereas most other chorus plugins only double the signal, Orchid quadruples your audio with four-way chorus processing, taking your productions to the next level.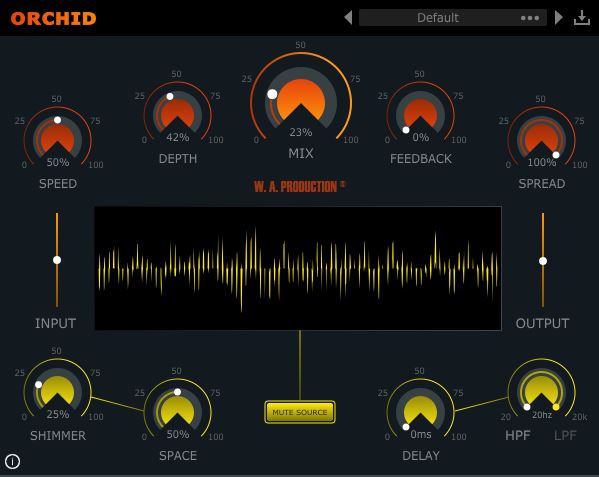 Chorus on steroids
4-way chorus processing
Multiple additional parameters
Delay, Filtering & Reverb
Harmonic generation via Shimmer dial
Visual feedback
Pop & click free bypass
Responsive & CPU friendly
Factory presets
Full PDF Manual & Tutorial video
Punchy Worm
It is a plug-in that makes a warm and punchy sound with simplicity of operation.
Dancing worm!
One-knob punch and saturation processing.
In / Out controls for accurate A/Bing.
Bypass toggle.
Up to x4 oversampling to reduce aliasing noise.
Full PDF Manual & Tutorial video.
Slap & Bass House Euphoria
The dark, melancholy sounds of Slap & Bass House can truly put your mind in an alternate universe, and there's nothing quite like the feeling it gives you.
With more than 700 samples and loops, this pack will inject instant inspiration into your library.
When you download What About: Slap & Bass House Euphoria, you'll have access to an unparalleled collection of Bass Shots, Drum Shots & Loops, and FX that will get the bodies moving and set you up for success.
Techno Stamina
By giving you mind-bending and suspense building up lifters, short and sustained impacts.
Synth shot plucks, buzz, booms, growls, stabs, and more. Analog and modulated basslines.
Triumphant and melodic brass, stuttered synth loops, and stunning strings.
Multiple variations of percussion.
10 claps, 10 closed hats, 10 open hats, 10 kicks, and 10 room kicks.
Impactful, dark, energetic. You'll have no shortage of inspiring ways to create.
EDM Vishnu
Not only are we giving you audio samples like tight snares, powerful leads, epic pads, and crisp cymbals. We are hookin' ya up with 5 Construction Kits.
All of which are professionally crafted and ready for your creative vision to bring them to life.
Whether you need growls, chill strings, swelling synths, punch throat kicks, trap-style hats, psytrance infused bass sounds and fx, horns, worldwide percussion, middle eastern plucks, apocalyptic impacts, high energy risers, deep bass, or anything in between.
It could be dark, it could be melodic, it could even be that chart-topping infamous synth sound.
Regular price $188.5 on sale for only $14.9.
There are many other great products available. Please check them out.