A collection of 28 types software and 10,000 types sounds, Arturia "V Collection 8" is 50% OFF.
A suite of 28 software instruments spanning analog synths, digital synths, organs, acoustic pianos, electric pianos, and string machines – recreations of the most iconic instruments of all time.
They're faithfully emulated using exclusive analog and physical modeling technology for unparalleled realism, and enhanced to allow in-depth sound exploration that goes far beyond their ancestors.
These virtual instruments can be used standalone or in your DAW of choice, and are designed to work seamlessly with your favorite MIDI controllers.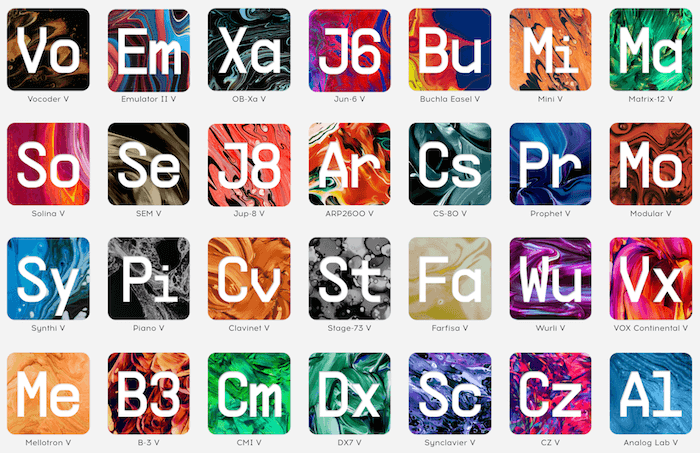 Includes 4 new instruments
Jun-6, Emulator II V, Vocoder V and OB-Xa V are newly is recorded.
In addition, Jup-8 V 4, Stage-73 V 2, renewal to Analog Lab V, 700 newly curated patches, etc. are enriched.
Jun-6 V
Jun-6 V combines beautiful polysynth thickness with an ultra-easy interface to satisfy your analog needs from the very first note.
Its simple controls, accessible creative features, and modern enhancements make it an essential keyboard that you'll just keep coming back to.
Emulator II V
Its unique combination of high-fidelity 8-bit sound, warm analogue filter, and instantly-recognisable sample library is sure to spark instant creativity, just as the original once did.
When you want lo-fi grain, '80s sheen, or a sampling flow that stands out from the crowd, look no further.
Vocoder V
Moog 16 Channel Vocoder emulation.
Part voice analyzer, part vintage analog synth, part cutting-edge sampler – this might just be the missing piece of your sonic puzzle.
Turn your vocal stems into analog FM basslines; Turn your drum loops into a synth chord sequences; Turn ambient samples into harmonic drones; Anything is possible.
If you'd prefer not to sing, there's even a dedicated sampler built-in so you can process whatever sounds you want to.
OB-Xa V
Oberheim OB-Xa emulation.
Not only will you feel the original sound of punchy bass, thick analogue pads and drones, and cyclical effects at your fingertips, you'll also have access to brand new features that will bring out this iconic sound deeper than ever.
OB-Xa V is here to let you spin that audio hurricane!
Analog Lab V
Use intuitive smart filter browsing to choose from a vast selection of the best vintage and modern presets and breathe new life into your mix with faithfully emulated classic sounds.
Whether you're a producer, performer, sound designer, or a fan of vintage synths, you'll find inspiration everywhere.
The GUI has also been redesigned to give it a modern feel.
Jup-8 V
Recreating the Roland Jupiter-8, the Jup-8 V is thick, airy, crystal clear, and at the same time uses unrivaled analog modeling technology to define countless records. It provides a brain-stirring sound that is still being defined.
Not only that. Combining this huge sound with dynamic and modern features, you'll take your sonic journey like never before.
Stage-73 V 2
Emulating the Rhodes STAGE 73, the Stage-73 V tunes in to the organic warmth, physical response, and legacy-inspired sound of this timeless instrument.
The result is a beautiful, authentic sound as well as an unforgettable musical experience.
Regular price $599 on sale for only $299.