A dedicated plug-in for modern synth bass, Loopmasters "Bass Master" is 60% OFF.
You don't need a manual if you know the synths to some extent; everything is on one screen, so you can see it clearly and easily.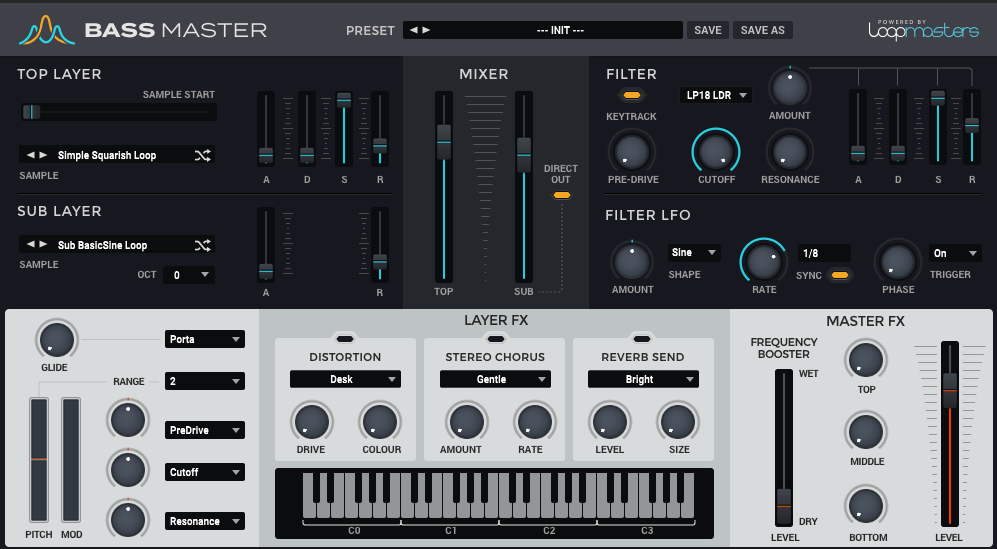 It is designed to allow you to create various bass tones simply and intuitively, rather than to create complex sounds. It's more of an honors sound, so it's possible to achieve some kinky sounds, but I think it's better to go for easy-to-use tones.
There are over 350 presets available. There are many easy-to-use tones of various types. Searching for a close tone and adjusting it will lead you to your desired tone in the shortest time possible.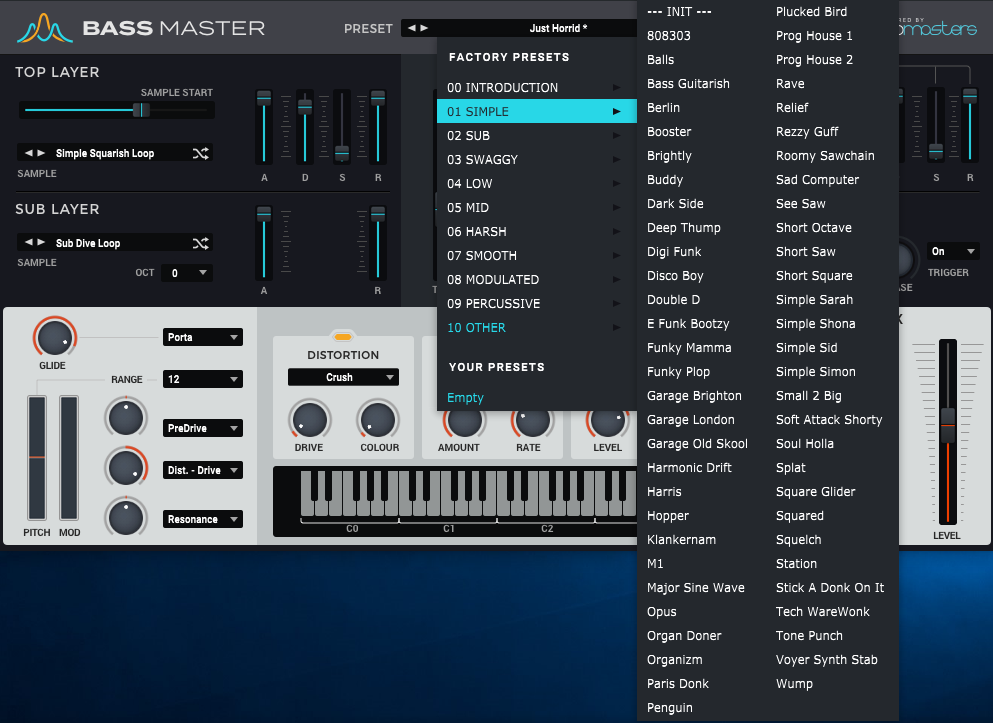 There are main oscillator and sub-oscillator on the left side, which are combined to create a tone. There are 217 waveforms available, each with almost 50,000 combinations of waveforms. The load is not too high, so it's useful for adding sub-basses, for example.
There are 13 filter types, and three effectors: Distortion, Chorus, and Reverb. I got the impression that they have the bare essentials, carefully selected.
The sound tends to be solid and aimed at EDM and electronic music. There is not much of an analog flavor to it. The sound is bright, grainy, and modern.
Here's a video from producer Tim Cant.
If you want a quick synth-based sound anyway, but also want to make adjustments instead of samples, this is the perfect instrument for you.
Authentic immense sound – Two sample-based oscillators with 217 waveforms sampled from the best modern and vintage bass sources.
Endless inspiration – Over 350 Presets from professional sound designers and top artists, plus waveform randomisation for instant modification.
Shape your sound – 13 Filter types with dedicated filter envelope and LFO modulation
Boost the bass – Unique three-band Frequency Booster for added crispness, body and bass
Add dirt, width and space – Distortion, Chorus and Reverb effects offer a choice of algorithms
Mod-wheel macro – Assign any three parameters to the mod wheel
Sculpt powerful transients – ADSR (Top) and AR (Sub) Envelopes, Signal Mixer
Keep the low-end clean – Direct Out control for the Sub, Sample Start selection for the Top Layer
Take global control – Legato/Portamento playback with Glide, Pitchbend up to +/-12 semitones
Regular price $97.9 on sale for only $38.5.