Slot driven drum sampler, Fanan "Bonnie" is available for free.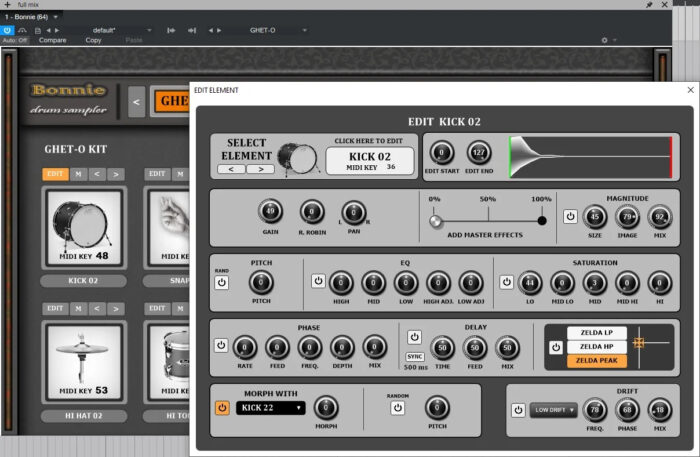 Bonnie is Zoe's little sister, a slot driven drum sampler with lightning speed drum-kits loading and fast one stage control, fitted for live usage, with better control, both mp3 and wav. format support, fast workflow and only 0.5 sec. loading times for new core kit.
It's perfect for sketching or producing most common classic genres drum tracks like disco, R&B, soul, hip hop, rock, pop, reggae and many more with carefully crafted samples that sit great in the mix and a reasonable drum library size that won't choke your hard drive.
Every slot in Bonnie has a full mixer page. It provides most of the traditional features per drum element that a producer might need and some exclusive features that you will not find even in the most expansive drums machines.
10 drum sample slots per kit
14 drum element banks with full 30 drum-kits that adjusted to wide range of genres
Morphing system for blending any 2 drum elements together
Automation file manager
4 additional wav. pages in the element menu for user's wav. files
Magnitude control section
Midi assignable start\end points manager
Master effects
Graphical midi keyboard with assignable keyboard starting points
Full virtual mixer with gain knobs, master effect send knobs, pitch knobs, random pitch manager knobs, round robin and pan knobs, master compressor, delay and reverb effects armed with a unique F.R. feature.
Drift effect
Midi route options (internal or sent to the DAW through midi channels)
Scalable and customizable GUI
Dedicated modulation effects including phaser, delay and Zelda filter