Three drum library bundles, MUSICAL SAMPLING "VIBE DRUMS BUNDLE" is 64% off.
VIBE DRUMS BUNDLE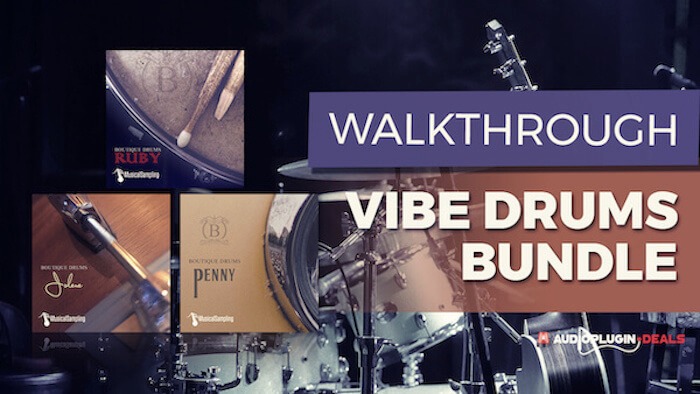 The Vibe Drums Bundle includes a total of 24 unique mix presets and 22 GB of content that cater to a plethora of music styles, from 60's Rock and Metal to Indie and RnB.
All mix presets were carefully developed and mixed from scratch using an arsenal of processing tools, both hardware and software. This allowed the MusicalSampling team to dial in the precise mix and vibe we were looking for without being limited to Kontakt's range of processing plugins.
Just select your preferred global mix preset, interchange them where necessary and get back to finishing your track.
Boutique Drums Ruby
We consulted with drummer Brian Scoggin (Casting Crowns) to create a true Boutique Drums kit. We also recorded at Hey Hey Studios in Griffin, Georgia.
Each of the eight mixes was created from scratch, using both hardware and software processing tools. The presets were developed outside of Kontakt, but with the right amount of punch, balance, and vibe, while still providing plenty of headroom for the additional processing.
Boutique Drums Jolene
While Ruby celebrates a heavy sound, Jolene represents indie, alternative, country and pop vibes.
It includes a collection of "baked-in" mix presets for a variety of musical contexts.
From the laid-back, intimate punch of 'Sunshine' to the pretentious attitude of 'Lola', there's a preset that has you covered.
Boutique Drums Penny
The Penny is the third in the Boutique Drums series and is our most vibey and versatile kit to date.
Initially, we wanted to create a kit that paid homage to the tight rock drum mixes that were popular in the 60s and 70s.
We then covered the toms and snare with fabric to dampen decay and ringout, and incorporated vintage mics from that era along with modern mics and gear.
After curating the kit with beautiful and rare custom pieces, sampling each drum extensively, mixing the snot out of it, and programming the penny, the end result is an instrument that fits far more of a musical context than we had originally anticipated.
Requires full version of Kontakt.
Just $99.99 (regular of $277) can get.