Next generation tools for post production, iZotope "RX Post Production Suite 7.5" is released.
Intro price up to 94% OFF.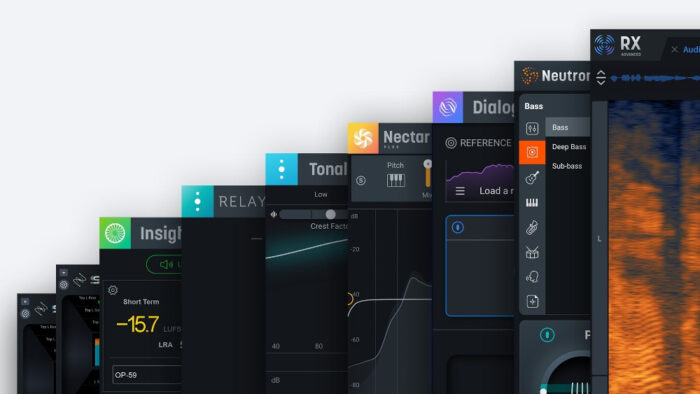 Next-Generation Tools for Post-Production
Groundbreaking Post-Production Tools you'll use in Every Session
RX Post Production Suite 7.5 gives you the tools you need to fix noisy production audio, bring stories to life, and send final deliverables at the right specifications, including RX 10 Advanced, Neutron 4 Advanced, Dialogue Match, Insight 2, Symphony 3D and Stratus 3D surround reverbs by Exponential Audio, and more.
Included
RX 10 Advanced: The award-winning audio repair suite trusted by leading post-production engineers who need to quickly and reliably prepare audio for professional release.
Neutron 4: The complete suite for crafting a professional mix, allowing you to mix smarter while staying in your flow.
Dialogue Match: Transfer the EQ, reverb, and ambience profile of one dialogue recording to another for seamless audio continuity in post.
Nectar 4 Advanced: The most powerful audio plugin for vocal production, polish, and mixing. Nectar 3 Plus also includes industry-class pitch correction with Melodyne 5 Essential.
Tonal Balance Control 2: Make mixes that translate to any listening environment with Tonal Balance Control 2, a plugin that helps keep music of any genre on target.
Relay: This utility plug-in allows you to control the level, panning, and stereo image of your tracks, and also enables the track to communicate with other Inter-plug-in Communication-enabled plug-ins.
Insight 2: An extensive audio analysis and metering tool that provides you with visual information about your mix with multichannel support for Dolby Atmos 7.1.2.
Symphony 3D: Bring lush, character-filled reverb for surround and immersive formats to any post-production or music project.
Stratus 3D: With more than 1,700 surround presets, up to 24-channel support, and intelligent multi-channel reverb controls, you can craft the perfect depth and dimension in your sound environments with Stratus 3D.
RX 10 Advanced
The Smart Solution for Clear Audio
Things break. So does audio. Recorded sound is rarely perfect – in fact, it's often in really bad shape.
That's why you need RX, the award-winning audio repair suite that helps restore, clean up, and improve recordings in post-production, music, and content creation.
Built on decades of iZotope research, RX 10 is the most intuitive and intelligent version we've ever made.
From analyzing audio capture and production issues to providing processing solutions, RX speeds up your editing workflow, salvages poor audio takes that were once unfixable, and delivers reliably clear sound quality.
Whether you are editing a podcast, recording a full band, or working on a blockbuster movie, RX 10 enables you to captivate audiences by bringing out the best in recorded audio.
Neutron 4
Modern. Intelligent. Your Complete Mixing Suite.
Mix smarter and faster with iZotope's Neutron 4, your complete suite for crafting a professional mix.
Sculpt sounds seamlessly while staying in your flow. Mix in the moment.
Regular price $1,978.9 on sale for only $1,428.9.
Regular price $1,978.9 on sale for only $108.9.
RX Post Production Suite 7.5 Upgrade from RX Post Production Suite 7