Unique multitrack analyzer and sonogram, MeldaProduction "MMultiAnalyzer" is 70% OFF.
Spectrum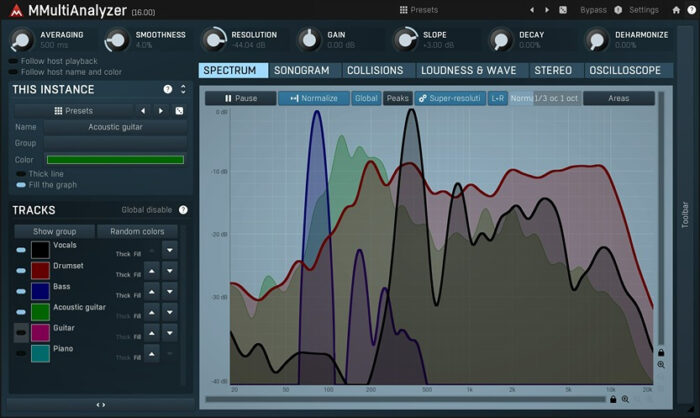 Spectrum displays the frequency of each track. This is a feature that you can find in other plug-ins. However, by plugging in multiple tracks, you can easily compare them.
Sonogram
The frequency is displayed in color, and the area covered is displayed in color.
Collsions
Each track is color-coded and displayed as a horizontal bar graph. The red color in the bottom row indicates the covered area.
Loudness & Wave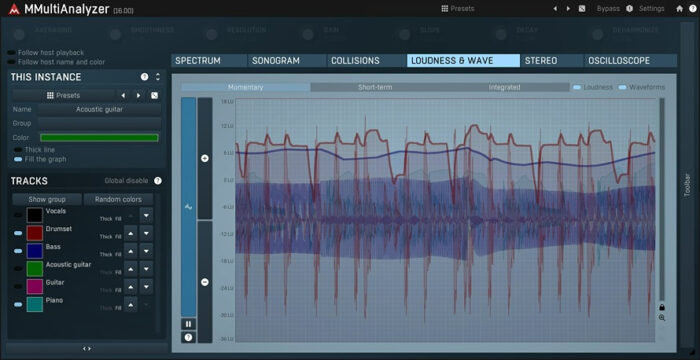 Displays the waveform and dynamics of the audio. It is suitable for processing targeted areas (e.g., comps).
Stereo
Displays the stereo position. You can visually set the panning and so on. It can also be used to clear your head when you have more tracks.
It's good to be able to check the panning in Analyze, since there are some sample materials that are panned incorrectly.
Oscilloscope
Phase check. It's useful when you have too many effects or too many notes.
This is a very inexpensive analyzer. It will be a great help when mixing and mastering. The other point is that it is easy to use and light.
Regular price $71.5 on sale for only $20.9.